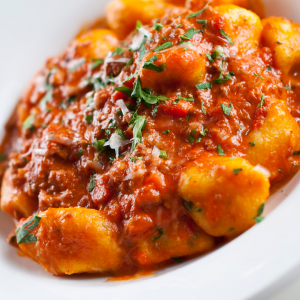 A simple, tasty and nutritious meal is always available with a few pantry staples including Cashumel.
This recipe features gluten-free gnocchi and Plant-based Cashumel Bolognese.
Plant-based Cashumel Bolognese is the latest addition to the Cashumel line of sauces.  It features Canadian made pea protein pieces, perfectly seasoned to provide a satisfying meal.
Per serving, this product has: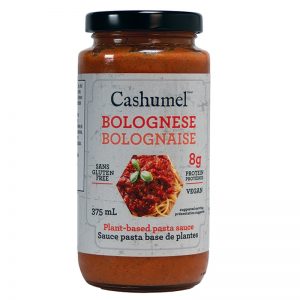 8g of protein
2 servings of vegetable
is low in sodium
has no added sugars
For this meal you will need
1 package of Gluten-free gnocchi (we usually use Italissima)
1 Jar of Cashumel Plant-based Bolognese
1/4 cup fresh chopped herbs (we use fresh basil and flatleaf parsley)
Directions
Cook the Gnocchi according to the packaging instructions
Open 1 the Cashumel and add to a saucepan and heat until bubbly
Add the cooked gnocchi to the Cashumel, along with 2-3 tablespoons of the gnocchi water, if you would like more sauce.
Stir together on medium heat until gnocchi is completely coated, about 1 minute.
Add the herbs, remove from heat and serve.