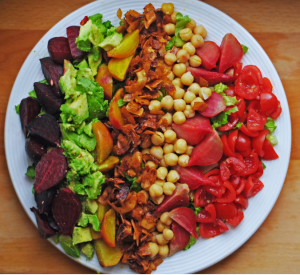 I cannot remember the last time I has a salad that was just greens.  Not saying green is bad, but I have bought into the idea of eating the rainbow, and it is fantastic, especially for my taste buds.
So here are a couple of my favorite salads.  They are truly complete meals, loaded with taste.
Try one and let me know what you think.
Vegan Rainbow Salad
Ingredients
1/4 cup(s) olive oil
1 tablespoon(s) lime juice
1 tbsp. Crème Cashumel Garlic & herb
2 tsp spices (chipotle pepper, basil, oregano)
8 cup(s) green leaf lettuce
2 cups chickpeas
2 cups grape tomatoes, halved
2 large beets, cooked and diced
1 ripe Haas avocado, diced
1/2 seedless hothouse cucumber, diced
1 small orange bell pepper, diced
1/3 cup(s) red onion sliced, sautéed
2 cups crumbled tempeh
8 medium Cremini mushrooms sliced & sautéed
Directions
Make the dressing: In a bowl, whisk first 3 ingredients until blended.
Sautee mushrooms and onions until golden.
Add crumpled tempeh, season the mixture with salt & pepper to taste
Cook for 2 mins then remove from heat
Assemble the salad: Line a large platter with lettuce. Arrange remaining ingredients, in rows, on top of lettuce.
Serve with dressing.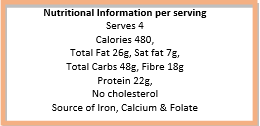 Chickpeas & Walnut Salad
Ingredients
1 cup corn
1 cup diced cucumber
1 cup chickpeas
1 cup toasted walnuts chopped
½ cup toasted pine nuts
½ cup diced red peppers
½ cup cherry tomatoes halved
Dressing
Juice of 1 lemon
¼ cup dried herbs (basil, oregano,)
1 clove garlic minced
1 tbsp. minced onions
3 tbsp. olive oil
Directions
Make the dressing by combining all the dressing ingredients and whisking together
In a large bowl, combine the 1st 6 ingredients with the dressing and toss.
Let sit for about an hour then serve. Can be made a day in advance and will last up to 3 days in the refrigerator.