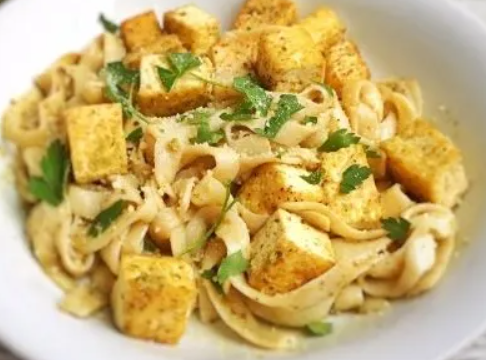 There are so many alternatives to meat these days, but sometimes it is hard to find something that tastes good and gives the nutrition you expect from animal protein.
Times have changed and there are so many options, that if combined correctly can give you that fulfilling alternative.
This pesto tofu has combines the protein of tofu, pine nuts and Cashumel, to give you great taste and nutrition.
Try it & let us know what you think
Zesty Pesto Tofu
Ingredients
1 pack (250g) tofu
6 cloves garlic, crushed
2 tbsp. olive oil
1 tsp salt
80g fresh basil
1 lemon, finely grated zest the juice
2 cloves garlic, crushed
25g pine nuts toasted
 Salt and pepper to taste
6–8 Tbsp. Cashumel Original
3-4 cups cooked pasta
Directions
Drain tofu. Wrap securely, like a parcel, in several layers of kitchen paper and place on a board. Press gently to extract as much liquid as possible without crumbling the tofu. Repeat this process until there is only a little moisture coming through the paper. Carefully cut tofu in half horizontally and then in each direction 4 times to make small cubes. Place in large bowl.
Put basil leaves, lemon zest and juice, garlic and pine nuts into a processor and blend until a paste is formed. You may need to add a bit of water or a bit more oil.
Add the Cashumel to the mixture and combine well
Reserve about 1 tbsp. of the mixture.
Dot the remaining mixture over the tofu cubes and, taking care not to break the cubes, coat them well. Cover tightly and marinate in fridge for between 1 and 12 hours.
Preheat oven to 180C/350/F Line baking tray with baking parchment/non-stick baking paper. Place tofu on lined baking tray and cook for 30 – 40 minutes, stirring after 20 minutes.
Cook your pasta or Rice as per the package instructions.
Mix in the remaining mixture to the pasta or Rice and toss in Tofu
Serve and enjoy.