It is the middle of summer and I know that I look for easy solutions to keep me hydrated and my energy level at maximum. There is so much to do and see, and even in a pandemic, I want to get out in nature and enjoy the trails. And I know I am not the only one feeling this way.
Smoothies are a great time-saving solution. These mini-meals take help us take advantage of all the seasonal fruits, berries and vegetable and are a good way to get our daily serving of fruits and vegetables. Smoothies preserve the fibre which is important for the health of our microbiome. They help increase our hydration, are convenient and as it is liquid, easier to digest.
Remember, to drink slowly with a chewing motion to allow your saliva to start the digestion process.
Below are 6 Lifestyle for Life approved and tested smoothies, all designed for energy and overall wellness.
Avocado Toast is a cup (serves 2)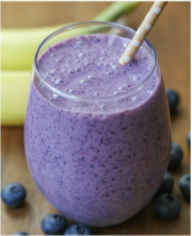 ½ cup Almond milk
½ cup dairy free yogurt
½ ripe avocado
½ cup blueberries
1 TBSP maple syrup
1 TBSP ground flax seed
Nutritional info: Protein 4 g, fibre 6 g, calories 199
PB& J (serves 2)  Good for Breakfast
1 cup Fresh Strawberries
1 banana
¼ cup Peanut butter no salt added
1 cup oar milk
2 dates
Nutritional Info: Calories 340, Protein 10 g, Low in sodium, Source of Iron
Mango Tango (serves 2)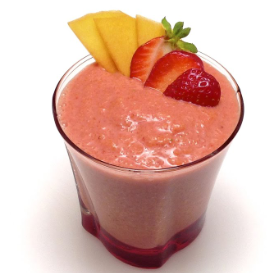 1 cup fresh raspberries
½ cup fresh or frozen mango
½ cup fresh or frozen pineapple
1/ cup coconut water
¼ cup maple syrup
Nutritional Info: Calories 201, Fibre 7 g
Let the sunshine in (serves 2)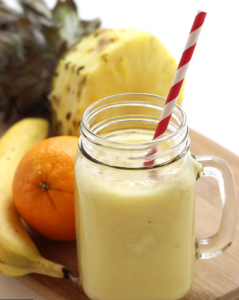 1 cup fresh or frozen pineapples
1 banana
½ cup oat milk
½ cup orange juice
¼ cup shredded coconut
3 dates
Nutritional Info: Calories 240, Fibre 6 g
Peaches & Cream (serves 2)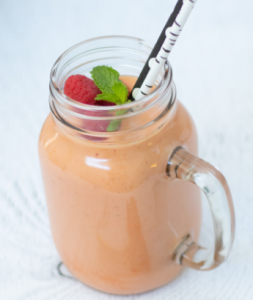 1 cup fresh peaches
½ cup strawberries
1 cup dairy free yogurt
½ cup coconut water
Nutritional Info: Calories, 133, Fibre 3 g
Pure Power Shake (serves 2) Good for Breakfast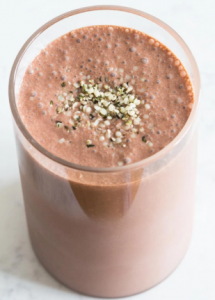 1 ½ cup almond milk
¼ cup almond butter no salt added
1 tbsp hemp seeds
2 tbsp ground flax seeds
1 tbsp chia seeds
2 tbsp cocoa powder
1 inch vanilla bean pulp
3 dates
Nutritional Info: Calories 388, Protein, 10 g, fibre 10 g, Source of Iron, Source of calcium