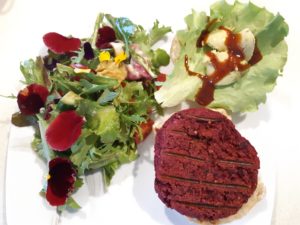 As summer approaches I am exploring additional uses for Cashumel.  Traditionally a homemade veggie burger can be dry and require additional sauce and conversely add more calories and sugar.  As we are determined to help you make good food that is good for you, I designed and tested this burger.  It is cooked on a grill in the oven, but a regular grill would also work just fine.  Just remember to keep the heat to medium.
Ingredients
2 cups chickpeas cooked (if using canned, drain and rinse thoroughly)
3 medium beets roasted (roast with olive oil, salt, black pepper)
1 medium onion
2 cloves of garlic
1 cup almond flour (fine ground almonds)
1 cup cooked quinoa
¼ cup each fresh chopped parsley & thyme
¼ cup Spicy Sun dried Tomato Cashumel
¼- cup ground oats (you may need a bit more depending on how wet your quinoa is)
Salt to taste (I did not add any to my recipe, but you may need a dash)
Directions
Preheat grill pan in oven at 350°F
Combine the first 7 ingredients in a food processor. While pulsing, add in the Cashumel and process until combined.
Remove from the processor and stir in the oats. Add enough oats to form a ball.
Portion into about 6 equal parts. Shape into about 3" rounds.  Do not flatten too much, make them about an inch thick.
Cover with parchment paper and let it rest in the fridge or freezer for about 10-15 minutes.
Grill for about 8 mins per side. You could use a fry pan for this if you do not have a grill.
Serve and enjoy