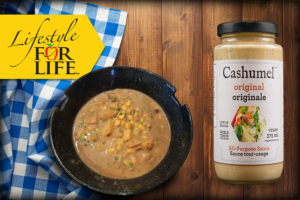 Summer is here and so are the wonderful local vegetables.  Lots of corn and potatoes, berries and tomatoes. It is a time to enjoy with friends and family.  It is also a time to ditch the traditional stove for the grill and maybe the crockpot?
Ingredients:
1/2 lb. potatoes
4 -5 cups vegetable broth
2 1/2 cups of fresh corn cut from the cob
1 medium onion
1 tbsp. each of thyme, basil,
1 jar of Original Cashumeltm
Salt & pepper to taste
Directions
Add all ingredients except the corn & Cashumeltm to the crockpot
Cook on high for 4 hours or until the potatoes are tender.  May take a bit longer depending on your pot.
Add the Cashumeltm – use a bit of water to get the last of the sauce out of the jar.
Stir into the potato mixture and add the corn, salt and pepper and continue to cook for another hour.
Taste and add garnish as required and enjoy.